An introduction to Analysing Staff Information
Setting up and maintaining a business is can be quite daunting. People frequently put their heart and soul into making it a success, not to mention the financial outlay in the early stages. It is therefore essential to have a clear idea about the things that are important to support the effective running of your business, including a good risk management plan. Analysing information is a good way to identify risks.
It is often said that staff are your biggest asset, in any business. Therefore, it is pertinent that your staff are made to feel valued, appreciated and supported. In order to understand what is happening in your work place and how it may affect staff, monitoring procedures can be a useful tool. But, monitoring procedures are insignificant, unless you analyse the information appropriately and have realistic improvement plans in place. For this article, staff sickness has been chosen as the subject, though the theory of analysis can be put to any theme.
Useful analysis
When developing an analysis tool, it is helpful to answer these simple questions, which should drive you to ascertain what you actually want to know.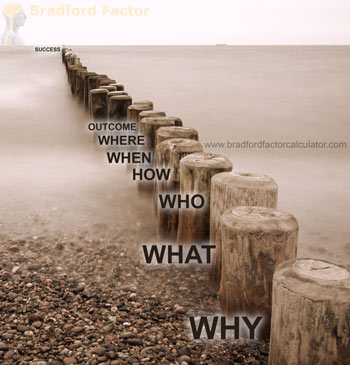 WHY?
You should identify why you want to analyse information, in order to give direction to the plan.
Are you planning to analyse because you know there is a problem, but aren't sure what it is?
Are you hoping to prevent a problem arising, maybe it will contribute to your risk management plan?
Are you developing a tool that will be used in everyday management?
WHAT?
What do you want to know? The list can go on forever, but Staff sickness is an area that can impact significantly to the running of your business - The number of days your complete workforce are off sick can cost you time and money. Here are a few useful things to consider analysing:
An individuals' sick record eg type of illness, frequency and length of illness, is it recurring?
The workforce sick periods - are there spikes at particular times? e.g. Is there more sick during school holidays, at weekends?
Age and gender. (This may prove useful when looking at facilities you provide to your staff)
Capabilities and disabilities (This may prove useful when looking at facilities you provide to your staff)
Line Management - Does one department/area have more sick periods than another? Does one manager have more problems with sick staff ?
Staff concepts - Do certain staff have beliefs that may negatively impact on the rest of the workforce? e.g. I will go sick if I can't get a days holiday?
WHO?
You need to consider who will carry out the analysis, as well as who will be included in the process. e.g. All staff, non-managerial, administration staff. When choosing staff to carry out the task, it is pertinent to elect people who can be discrete and not discuss sensitive information with others. You may even choose to have an external company complete the task for you.
HOW?
There are several ways to gather information, but anonymity is paramount if you wish to have unbiased analysis. Here are a few things that can be used:
Staff survey - Developing a short questionnaire will give an idea of staff concepts. Though not necessarily factual, anecdotal information can be very helpful.
Recording weekly or monthly sick days in a planner.
Collating information from different departments into one spreadsheet.
Check time sheets. (This may identify staff who 'go sick' during a shift)
Check planned work rotas against actual work rotas. (This may identify trends, such as someone being sick on every early shift that falls on a Friday).
WHEN?
The timing of your analysis can really help manage your risks. If you intend the analysis tool to be used as an ongoing information provider, it is best if it coincides with your normal business practices. Eg If you have a monthly HR meeting, ensure the end date for that months analysis to be a couple of days before the meeting, to allow time to contemplate the information. If completing an annual analysis, choose a time when your year end is, in order that you receive more accurate information eg If you do an analysis for a year, but complete after six months, the information will be skewed as it is half way through the period you wanted to analyse.
WHERE?
Where will the analysis take place that will allow confidentiality to be maintained, but also give enough time and space to the actual task.
OUTCOMES
Once you have answered these questions, you will appreciate that a lot of thought should goes into the decision. However, once you have done this, you can now concentrate on sifting the appropriate information out, interrogating the information and start to address areas of concern. For example, if a particular manager is experiencing more sick staff than any other, how would you tackle it? Is there an issue with his management style, is it a blip over one month? Was there an outbreak of a particular illness that debilitated the workforce that month, such as flu? If you have gathered the information, you can break it down further and then plan to address it.
Bradford Factor Resources
Additional Bradford Factor Resources
For further information on The Bradford Factor (Use, Implementation and Record Keeping), please review our Bradford Factor guides and management strategy information.